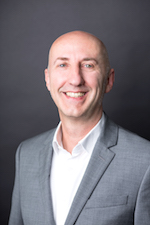 Dr. Sven Schmeier is Chief Engineer and the Associate Head of the Speech and Language Technology Lab  of DFKI consisting of more than 30 researchers, engineers and consultants at different levels.
Sven was and still is active in the seed phase of high tech companies:
Sven studied physics and computer science at Saarland University from 1989 to 1997 and graduated by receiving a Diplom (MSc). His PhD-Thesis in Computational Linguistics is about "Exploratory Search on Mobile Devices".
In 2004 he received a Patent:  Verfahren zum automatischen Klassifizieren eines Textes durch ein Computersystem (A method for automatically classifying a text by a computer system), number 10210553, Deutsches Patentamt.
Sven has extensive experience in data mining and machine learning, human-computer dialog systems, information extraction, semantic search, big data analytics, question answering and mobile applications of NLP technologies. He has successfully led more than 20 national and international projects in research and industry.
He has broad and in-depth experience of the total cycle of innovation in his expert areas from basic research, to development, to products, and their commercialization.
Current projects in our group
BBDC2 (Berlin Big Data Comptence Center) (01.10.2018 – 30.09.2022)
funded by the German Federal Ministry of Education and Research (BMBF)
Deeplee
Deep Learning for Core NLP tasks.
Daystream
Data Analytics and AI for Mobility.
SDW
Smart data Web (coordinator): Application of big data analytics, semantic web to Industry 4.0
SIM3S
Smart Inclusive Multi-Modal Mobility Services
MACSS
Medical All Around Service Solution: Text analytics for clinical texts
Big Medilytics
Big Data for Medical Analytics. From Prevention to Diagnosis, Treatment and Home
LYNX
Legal Knowledge Graph for Smart Compliance Services in Multilingual Europe
Several smaller and bigger consulting projects.